http://www.theguardian.com/higher-education-network/blog/2014/oct/24/bullying-academia-universities-stress-support?CMP=twt_gu
Bullying in academia: 'professors are supposed to be stressed! That's the job'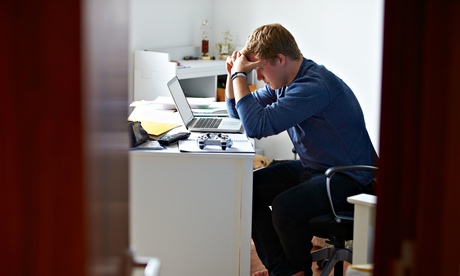 Bullying is rife in academia – and it is tolerated to an extent that wouldn't be acceptable in other areas. I've seen careers wasted in academia just by bad management and bad practice. My story is an illustration of what can go wrong.
Shortly after I moved from my old university to a new job as head of a science research centre at a Russell Group university, my partner and I were hit by a series of problems in my immediate family. It started when a number of family members were diagnosed with life-threatening illnesses. We had to make regular visits and provide a lot of support. But the worst was yet to come – a horrific family tragedy, which was devastating for us all.
At the same time, my new role was a busy, high-profile job that included being on the executive committee for a major international journal and two UK funding committees. We'd had a reorganisation in the faculty and an extra layer of management was inserted. It was made clear to some members of the research group that performance had to be outstanding.
My newly-appointed line manager came to see me just as I was about to go home on a Friday evening. He asked me how things were. I said, "Oh, I'm absolutely stuffed, I've got no energy, I'm worn out." He replied, "I'm not here to talk about that – I'm here to talk about your research performance." In the discussion that followed he told me I should change the focus of our research. I explained that the work we were doing was slow and painstaking, but significant.
He was adamant about changing the focus, and I started to get more and more stressed. It was before the last research assessment exercise (RAE), and the vice-chancellor was saying he wanted the university to be in the world top 50 rankings, so my line manager was taking this as an excuse to do all sorts of things.
Other members of staff in my group would come to me saying, "I feel I'm being bullied, I'm being squeezed out, I'm being threatened." We also had a regular monthly group meeting that I inherited from my predecessor. My line manager came and said, "I don't want you to have these any more, I see it as divisive." I think it was a threat to his autonomy.
I went to see a university counsellor, who I think was probably more used to stories about people's PhD supervisors giving them a hard time. I told him my story and I could see his eyebrows shooting through the top of his head.
I had a couple of meetings with him. At the start of the third one, the fire alarm went, and we had to evacuate the building. Outside he said, "I'm really sorry about that, but I'll call you to arrange another appointment". But he never called. So I think it was actually too much for him.
I started to drink a lot. The pressure and weight of responsibility continued both at home and in work, so I went to see my doctor, who made an emergency referral to a specialist counsellor.
Then as it was getting closer to the RAE, my line manager called to see me. He said, "I want you to do this extra thing for the RAE." I said, "I've got enough on, and I'm not adding to my stress." He shouted at me, "You're supposed to be stressed! Professors here are supposed to be stressed! That's the job." I said, "With all due respect, I don't think any other professor in our faculty has had the stress I've had to cope with in the past year."
He told me that a lot of people were stressed, and he still wanted me to do the additional work. At that point I started to look for a way out, and when the university was looking for ways to save money, they sent an email around saying that they were reorganising and would offer voluntary redundancy, which I decided to take. I was 48.
I put in a watertight succession plan with funding agencies to make sure that the person I'd recruited to my group as a lecturer could take everything over. I know that if I hadn't done that, my manager would have dispersed my lab and my equipment, and absorbed it into the greater group.
In other industries, the human resources departments are really strong on bullying, and if there is any accusation of bullying, it's taken seriously. But in academia, there's a culture that the line manager or head of department has absolute power. They can make or break your career, and people very rarely go to HR. I have spent several years working for a drug company and there the climate was much more professional. You were trained to look after the people in your group and to look out for any warning signs. UK universities are 10 or 20 years behind.
Unfortunately, instead of institutions being encouraged to work together, we are now expected to compete against each other for the same, smaller pot of money. Until that changes, I expect the bullying culture to continue.
Are you being / have you been bullied in your job in higher education? Help us understand more about this issue by completing our survey.

If you have been affected by any of the issues mentioned in this piece, contact Samaritans or National Bullying Helpline.
Would you like to write for Academics Anonymous? Do you have an idea for a blog post about the trials, tribulations and frustrations of university life? Get in touch: claire.shaw@theguardian.com.
Join the Higher Education Network for more comment, analysis and job opportunities, direct to your inbox. Follow us on Twitter @gdnhighered.
http://www.forbes.com/sites/kathryndill/2014/04/18/survey-42-of-employees-have-changed-jobs-due-to-stress/
One In Five Workers Has Left Their Job Because Of Bullying
Bullying isn't just an issue in the classroom. It can spring to life in the boardroom as well.
Nearly one third of workers report having felt bullied at work, according to a study released today by CareerBuilder. Even worse? Roughly 20% ended up leaving their job because of it.
The study is based on data from a nationwide survey conducted by Harris Poll of nearly 3,400 full-time, private sector employees throughout various industries and company sizes.
"Bullying impacts workers of all backgrounds regardless of race, education, income, and level of authority within an organization," said vice president of human resources Rosemary Haefner, in a statement. "Many of the workers who have experienced this don't confront the bully or elect not to report the incidents, which can prolong a negative work experience that leads some to leave their jobs."
What, exactly, constitutes bullying?
A few main complaints among those who felt bullied were being falsely accused of mistakes they hadn't made, feeling ignored or dismissed, feeling judged against a different standard than others, or being the subject of gossip. Still others felt belittled during meetings, constantly criticized, admonished in front of co-workers, deliberately excluded from projects and meetings, or attacked for personal characteristics like race, gender, and physical appearance.
"It's often a gray area, but when someone feels bullied, it typically involves a pattern of behavior where there is a gross lack of professionalism, consideration, and respect," said Haefner, "and that can come in various shapes and sizes. Whether it's through intimidation, personal insults, or behavior that is more passive-aggressive, bullying can be harmful to the individual and the organization overall."
And when choosing a target, workplace bullies seem to maintain an equal-opportunity policy. Thirty-four percent of female workers say they've experienced bullying at work, compared to 22% of male. A quarter of Latino workers and 27% of African American employees have felt bullied. Twenty-four percent of Caucasian male employees felt the same. Forty-four percent of physically disabled workers report having felt bullied as do nearly a third of LGBT workers.
Of the quarter of workers who said that bullying was occurring in the job they currently held, employees in management roles were the most likely to feel as such. The percentage of workers earning less than $50,000 a year who felt bullied, currently, was nine points higher than that of those earning above $50,000.
Nearly half the time, "the bully" him or herself turns out to be the boss or a co-worker. A quarter of people reported being bullied by a superior who was not their direct boss. Usually the bully was one person, but 19% of workers said they had been targeted by a group.
Also of note, government workers were "nearly twice as likely to report being bullied (47%) than those in the corporate world (28%)."
Can workplace bullying ever really be solved? Almost half of workers who reported having been bullied confronted the culprit to try to end the behavior. Of those who chose this option, nearly half reported success–though an equal share said it changed nothing, and 11% said the bullying "worsened." Thirty-two percent alerted HR to the situation, but 58% of those individuals said nothing was done in response.
CareerBuilder recommends those who feel bullied keep meticulous documentation of each situation, including the time and place of incidents and the names of all involved.
Additionally, individuals should consider a firm, polite confrontation in which the bully or bullies are made aware of how the individual feels, as well as specific examples of the behavior in question.
Finally, "always focus on the resolution." When confronting a bully, individuals should ensure they center their focus on what changes can be made to improve working conditions going forward.
http://www.usnewsuniversitydirectory.com/articles/bullying-a-rising-concern-for-new-nurses_14282.aspx#.VAlFO1Plx3t
Bullying a Rising Concern for New Nurses
---
By Rebecca Strong
Posted September 03, 2014 02:00 PM

Bullying is a rising concern for new nurses.
For new nurses, a supportive, low-stress work environment is absolutely crucial to ensuring their success. Their first year of practice is a time for acquiring essential skills, building on their practical knowledge and boosting their confidence. Unfortunately, their vulnerability puts them at risk for bullying, an increasingly prevalent threat that could compromise those developmental opportunities.
Rising Worries
A new survey of over 2,000 nursing school graduates from the class of 2014 from Kaplan Test Prep revealed that this issue is breeding fear. A staggering 48% of participants admitted they are concerned about being the victims of workplace bullying or working in a hostile environment, according to the press release. This finding should come as no surprise considering 39% of those who answered the survey knew nurses who had experienced these conditions.
Another study in American Nurse Today revealed that roughly 60% of nurses left their first job in just six months due to bullying or a hostile work environment. Medical providers then suffer the consequences: Related research published in The Online Journal of Issues in Nursing showed that this can cost them from $22,000 to $64,4000 or more per turnover.
Susan Sanders, DNP, RN, NEA-BC and vice president of nursing, Kaplan Test Prep, commented on this "disturbing dynamic" in the press release.
"Changing cultural norms within the nursing profession will require efforts from all parties: from nursing graduates, in treating their colleagues with respect and raising awareness by reporting incidents; from nursing leaders, in leading by example to foster supportive behaviors and promote a healthy work environment; from health care institutions, in setting zero tolerance disciplinary policies and empowering staff to report on issues without fear of retaliation; and from academic institutions, in preparing students with conflict management skills to address situations as they arise," Sanders said.
Bullying can have a significantly negative impact on not only the nurses themselves, but also the institutions in which they work. Victims' feelings of isolation, incompetence and inferiority can often compromise their ability to provide optimal patient care. Not to mention, stress can lead to some detrimental problems, such as anxiety, depression and insomnia. As nurses' morale and job satisfaction slowly declines in response to bullying, institutions have to deal with the harsh financial reality of higher absenteeism and turnover rates.
Addressing the Issue
So how can health care organizations end the abuse? American Nurse Today recommended that hospitals establish and aggressively communicate zero-tolerance policies for bullying, and ensure full support from upper administration. Meanwhile, a whopping 79% of nursing school graduates believe nursing schools should offer workshops and special training sessions on handling workplace bullying and hostile work environments, according to Kaplan's survey.
Valerie Palarski, adjunct nursing faculty for Rasmussen College Online, explained in an interview on the school's blog that she also believes medical schools need to take some responsibility for properly preparing nurses to dodge bullying. She explained that students are only set up for success if they have effective communication and coping skills that can allow them to remain composed in a high-stakes environment.
Kaplan is currently surveying nursing school and medical school administrators in hopes of gaining deeper insight into this issue, which will be revealed later this year.